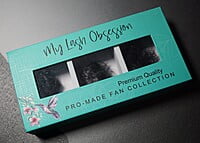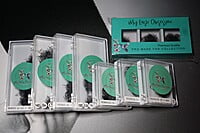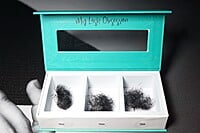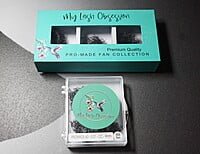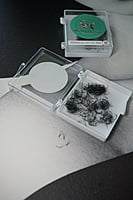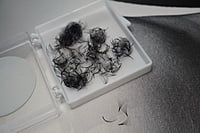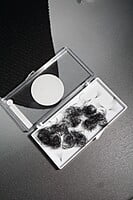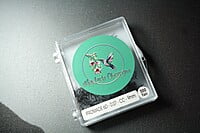 Product Details All of our Promade Fans Are 100% handmade, made from top-quality Korean PBT. Our fans are rich black and strong curl. Due to handmade production, we do not count our fans, but they are weighed to make sure they are between 480 and 500 fans per box.
Our MIXED promade fan boxes are 750 fans Minimal Adhesive used for best bonding results.

100% vegan.

To use: Grab loose fans and place on to Tile or silicone pad. Grab one fan at a time, dip in adhesive, making sure to dip the entire stem and place on the natural lash. Placing on the bottom or to the side of the natural lash is optimal retention. Our fans are 100% handmade using very minimal adhesive resulting in small bases. Handmade Mid- Wide Volume fans in the box

Each box contains 480 - 500 fans PBT Silk

C, CC, D Curls

Thickness of 0.03, 0.05, 0.07

4D, 5D, 6D, 8D, 9D,10D,12D,14D,16D Selection of 8mm-16mm lengths

Vegan Friendly Latex-Free Cruelty free.